Intro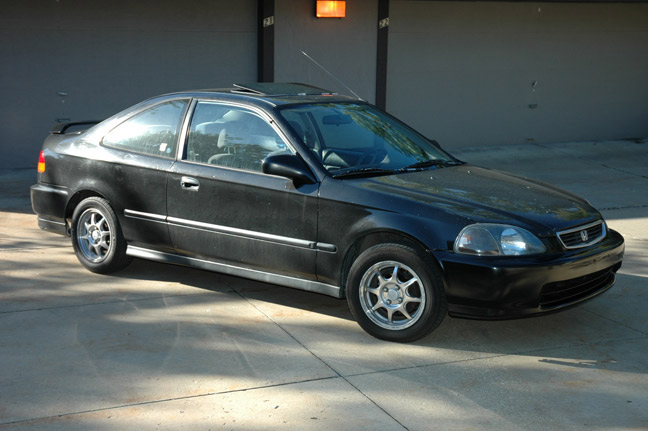 My car is a 1996 Civic Hx with the D16y5 vtec-e engine and CVT transmission.
A little background... this was the first year that Honda used a Continuously Variable Transmission in the Civic. The automatic HX's came with the CVT tranny instead of a traditional automatic. They are known for shaking when accelerating from a stop. Mine was doing this when I bought at (104k mi) I had the car at the dealership for some emissions warranty work, and they gave me a quote on the transmission. $800 total, $300 for a new start clutch, $500 labor. I decided I would convert it to manual since I had a spare 5 speed & shift linkage already. I had originally planned to swap in a spare automatic tranny I had, but after looking into it more I realized it was not an option. Yes any 92-00 D series automatic tranny will bolt up to the D16y5 (hx) motor. However, the D16y5 head is a vtec-e head (lean burn mode) which achieves greater miles per gallon. The only 2 ECU's that are avail for the HX motor are for the manual (P2N) and the CVT (P2M). The P2M ecu for the CVT will not know how to operate with a normal automatic tranny. An ecu from an automatic dx/lx/ex will not be able to control the lean burn mode operation of the HX head.
So your options are:
1. Replace or repair the tranny (easiest but may be expensive)
2. Convert to 5 speed manual
3. The only way to use a regular auto tranny would be to use a head other than the hx head (d16y7 or d16y8) along with the correct ecu for the head & tranny. You will lose the extra MPG that vtec-e gives, and have some extra wiring issues. Also, I'm not even sure what components from the CVT civic are compatible with a regular automatic.
So before you consider converting to manual, try flushing out the CVT transmission. The fluid may need to be changed, or someone may have put regular automatic tranny fluid in it, instead of the CVT fluid. These issues can cause the slipping. The CVT fluid is expensive, but it is well worth the investment before you convert.
You will need enough fluid to refill it once, drive it, and then drain & refill it again. Just one refill is not enough to flush all of the old fluid out, because some of it stays in the transmission. When you drain the fluid, look for metal particles in it, that would make me lean toward converting. If the transmission is slipping for too long, it will begin to wear out.
The CVT is not easy to find used, and very expensive from Honda. The $300 start clutch is designed to be replaced. Looking back, I would have gone that route after learning how much work it was to convert. I started collecting parts for the swap in fall/winter 2005. I was not in a hurry, so I collected them slowly on ebay when I found a good price. Since then, more people have been sharing information about these transmissions and how to flush them. Had I known it was that simple, I would have tried that first. But when I started, people were only saying how they were on their second or third CVT tranny, having the same problems every time. So I went with my original plan to convert since I had most of the parts already.
Parts you will need:
- 92-00 D series manual tranny
- 96-00 master cylinder, nuts
- 92-00 D series slave cylinder, bolts
- 96-00 manual pedals, connecting pin
- 96-00 clutch lines, or the Earl's conversion ss braided clutch line
- 92-00 shift linkage, bitch pin, bolts, bushings
- 92-00 shifter, knob, dust boot
- 92-00 rear transmission manual mount
- 96-00 D series rear transmission manual bracket & bolts
- 96-00 CVT passenger side tranny mount (re-use)
- custom passenger side tranny bracket (I combined a 96-00 D series manual bracket with a 96-00 CVT bracket)
- 92-00 D series Flywheel & Pilot Bearing
- 92-00 D series Clutch & Pressure Plate
- 92-00 D series Release Bearing
- 92-00 D series Manual Flywheel bolts (auto ones are too short)
- 92-00 D series lower front tranny bracket & bolts
- 92-00 D series manual starter & lower long starter bolt
I am going to do the swap without removing the entire engine.