About us
It's common for a small business to make themselves appear bigger than they really are. We often help others achieve this image, despite being a small business ourselves, by producing the quality work you're looking for at an affordable price.
6th Gear Advertising was created in 2006 with a growing number of clients in the automotive industry. In late 2008, the recession hit the automotive industry harder than most.
From that point, we expanded our client base to include everything from food to concrete, while continuing to serve our automotive clients with the expertise we had become known for.
Lean Business – a concept that makes sense. No full time employees and no leased office building means minimal operating costs. By trimming excess spending, savings are passed to the client.
We're a lean business. We have talented freelance programmers and designers working remotely, ready to jump in when needed.
What we do
We design websites, brand identity, printed literature & business cards. We're your source for photography, illustration, video and much more. 6th Gear Advertising takes on projects of all subject, shape and size.
6th Gear Advertising has had the pleasure of working with a variety of clients.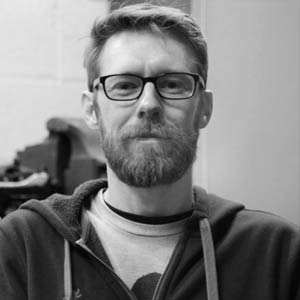 Brian Sullivan
Designer / Photographer / Illustrator
Since graduating from the University of Akron in 2002 with a BFA in Graphic Design, I have gained 16 years experience working in advertising and have been shooting since the days of film and manual focus. When not working at a computer or behind the camera, I can be found wrenching in the garage, mountain biking, attempting a home improvement, and spending time with family.
Our office
6th Gear Advertising's space is not too small or too big. In addition to the office and photo studio, we have a 1200 sq. ft. facility to complete most external jobs in-house: custom displays, booths, signs, painting, blasting, welding, woodwork, even build the occasional project vehicle. Just ask!.